The House that Convoy Built TV Special and auction date announced
November 2, 2021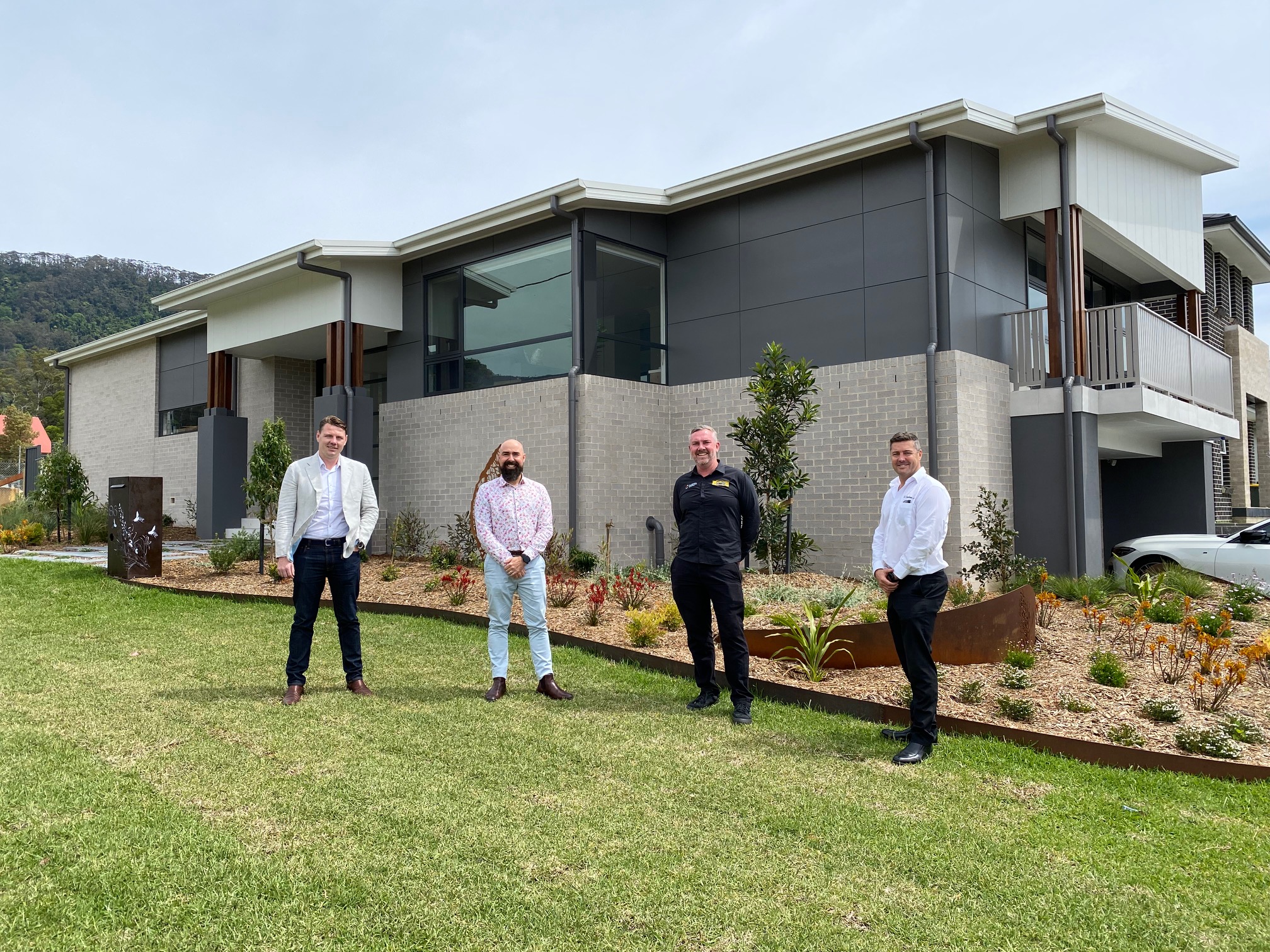 GJ Gardner Homes have put the finishing touches on the House that Convoy Built at Vista Park Wongawilli, and the home is now ready to view for prospective buyers.
The idea of building a house for auction with 100% of proceeds going towards the Illawarra Community Foundation came about after fundraising group Team Dandaloo (consisting of Al Doherty, Rob Starcic & Paul Hadley) met with property group Sheargold and then pitched the idea
to the Illawarra Community Foundation.
When Sheargold then generously donated the block of land at Vista Park which is located at the corner of Wongawilli Rd and Bankbrook Drive, Wongawilli valued at $440,000 the idea of building a house became reality. Custom designed by ADM Architects, this three bedroom house
also features open plan living with two generous living areas, alfresco dining, a double car garage, and so much more.
With the backing of the WIN Network and i98FM, on the original date of the 2021 i98FM Illawarra Convoy (Sunday 21st November) a television special will air highlighting The House that Convoy Built project. "The television special will highlight this awesome project, and the massive amount
of work that has been done over the past year to make it possible from so many generous people. It's really been great to see a whole range of new supporters, who don't have trucks or bikes, that have wanted to do something for Convoy, really dig deep to get this house built." Said Convoy founder Marty Haynes "It makes you proud to know the reach that Convoy & The Illawarra Community Foundation has, outside of the trucking and motorbike community."
Those involved have been overwhelmed with how the Illawarra community has gotten behind this project with over 120 tradies, businesses and suppliers all contributing to the completion of this stunning architecturally designed home. The house consists of 130,000kg of concrete, 3,200m of timber frame, 430m of Colorbond roofing, 38,440kg of bricks, 1.240m of electrical wiring, 19,980 nails, 178lt of paint and over 1,900 hours of donated labour.
"This is a very special house, where the winning bidder will not only be buying the house, but also a range of furnishings including beds, lounges, TV's, dining tables, outdoor settings, a security system, air conditioning, accessories and more. So if you win at the auction, you can just turn the key and start living!" said i98FM Illawarra Convoy Manager Mark Rigby. "It even has a Vespa motorbike donated by Motocity in the garage for the successful buyer, so they can take part in future Convoys."
The team at MMJ Wollongong will be coordinating the sales process for the house, and renowned auctioneer Ben Mitchell will undertake the all-important auction of the property on Saturday December 4th, the evening before the newly rescheduled date of the i98FM Illawarra Convoy,
Sunday 5th of December.
"As a childhood cancer survivor and father of 2 children having battled cancer, personally I have a huge appreciation for how important charities like The Illawarra Community Foundation are to families like ours,' said Luke Rollinson, Director of MMJ Real Estate Wollongong. "And when given the opportunity to assist in the delivery of the 'House that Convoy Built' through provision of our Town Planning and Real Estate services, we at MMJ Wollongong jumped at the opportunity to donate our time for this wonderful cause. Thank you to all the consultants that assisted us with the Development Application and Construction Certificate process, and we thank in advance those organisations who have signed up to support the forthcoming sale process. It is an honour and privilege for MMJ to be involved in this community fundraising project, and we are proud to know the money raised from the sale of this house will benefit many Illawarra families in need"
To register your interest to purchase The House that Convoy Built, head to www.mmj.com.au/convoyhouse